Tag Archives:
Phoenix Coyotes
---
Comment
Scoring Summary:
First Period- O'Sullivan (1) and Parise (4)
Second Period- Fayne (2) and Whitney (4) and Torres (2)
Third Period- Hanzal (3) and Whitney (5) and Palmieri (1)
Next Game: 10/29 at Dallas Stars 8:00 pm.
Zach Parise Postgame:
"They had 42 shots. We left Johan out to dry quite a bit. It wasn't that great an effort for us."
Peter DeBoer Postgame:
"It's disappointing. You want to keep building on good things, but it's early in the year."
Team Notes:
Coyotes outdrew the Devils 33-23
Coyotes outshot the Devils 42-34
Devils went 0 for 1 on the power play.
Coyotes outhit the Devils 31-29
---
Comment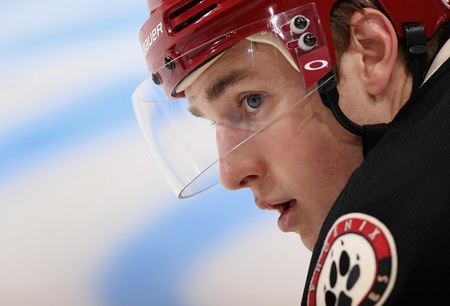 On October 16th I posted a rumor that the Phoenix Coyotes' unsigned center Kyle Turris could be heading to New Jersey.  Well today he has asked for a trade and the Coyotes have denied his request. Turris' agent Kurt Overhardt has said that it was never about the money. He wants a fresh start with a different club. Overhardt has said that numerous clubs have made trade offers but will not name which clubs have made offers. This is very interesting since the Devils are in Phoenix tonight as they take on the Coyotes. Only time will tell because if Turris is not signed by December 1st he can not play this season. Stay tuned.
---
Comment